SPECIAL TIMETABLE SANT JOAN 2.018
21/06/2018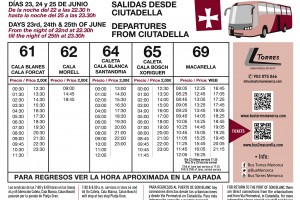 From the night of 22 to 23 June until June 25 at 23:30 hours the following lines will be operational 24 hours:
61 Blanes-Ciutadella-Cala-Delfines-Cala Forcat
64 Ciutadella-Caleta-Santandria-Cala Blanca
65 Ciutadella-Cala Caleta-Bosch-Son Xoriguer
Line 62 Ciutadella-Cala Morell will have 3 servings daily.
Lines 66-Son Saura, 67-Cala Blanes/Cala Blanca/Cala Bosch and 68-Cala Tuqueta, no service.
Line 69-Macarella the last service on 23th of June will be at 16:25 from Ciutadella and 17:00 from Macarella.
Bon Sant Joan !!