News route 69 Ciutadella-Macarella
02/06/2019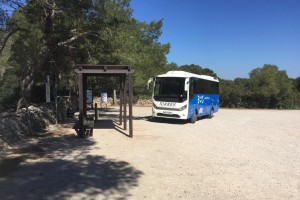 On the 1st of June, the Macarella line was started with a new bus and facilities for users at the Macarella bus stop:
The new bus of the Otokar brand is more robust and has less width and length, which allows it to circulate more easily to the emblematic beach.
The 'Consell Insular de Menorca' has installed a pergola and 2 banks that conditions improve passenger waiting. The road signs to the beach have been improved.